The world's first government funded and government run public transport railway?
The recent decision to allow developers to bury a historic railway bridge under tonnes of fill in order to build yet another big box shopping centre has led to intense activity investigating the bridge's history.
It turns out that it is highly likely that this bridge is on the world's first government built and operated railway ... in Ipswich in Australia.
So the bridge might now be saved ... if widespread community support (see the on-line petition at http://www.youripswich.com.au ) convinces the Queensland government to apply [rather than avoid] its obligations under protection of heritage rather than supporting rampant development despite the loss of unique history.
And the bridge? As the detail contract drawings show the bridge as drawing #1 of contract #1 of the government railway.... see Heiner_Rd_Precinct_Brochure , it is the first contract ever let on the world's first government railway ...!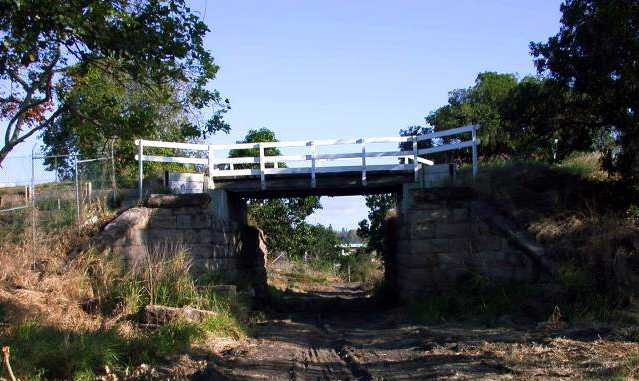 The photo above shows the Heiner Road Bridge abutments (the bridge balustrades etc have been replaced) built c 1864 as an overpass ... as at grade crossings were recognised as too dangerous, a view later reversed with a huge cost in lives lost at railway crossings in the years since.
In this age of increasing political inclination to privatise public transport (a trend rarely supported by those who know and use public transport), it seems strange that the cultural and physical heritage values of this bridge have not been recognised.
Not far away, the first railway route has been built over and destroyed although significant sections remain ... enough for a world heritage walk or cycle path with signage to describe and drawings/photographs to show, what was there.
There is a wonderful opportunity to create a heritage trail which includes this bridge, then a walk/cycle to the recently opened Railway Workshops Museum (see Queensland Museum websites) then on along the first government built, operated and owned railway ... all on a gentle "railway" gradient ... and with a destination at a railway station that is located near where the first railway corridor meets the current lines.
For further detailed information, visit www.youripswich.com.au and for more detailed info, see www.youripswich.com.au/downloads/Downloads_1.html
Public Transport Alliance
Brisbane
Australia